Roll Off Bin Rentals for Construction Projects
Roll-Off Bin Sizes
Roll-off bins offer both convenience and cost-effectiveness, featuring a variety of sizes to match your requirements. Choose a size below for additional details and pricing.
Commercial, New Construction, and Home Improvement Waste Bin Rentals
If you're undertaking a substantial project that involves the disposal of waste materials, consider Bins Now for your Calgary waste bin rental needs. We deliver roll-off bins to your project site promptly and in the precise size you require. These roll-off bins are spacious, open-top containers suitable for temporary use during home renovations, estate clean-outs, yard clean-ups, and other extensive waste and recycling endeavors.
Bins Now is your go-to source for on-demand roll-off bins in Calgary and the surrounding area, ensuring efficient waste management. Our commitment to each project includes recognizing the importance of your time and delivering dependable, punctual service. We offer a range of sizes to accommodate your specific requirements, and our team is ready to answer any questions you may have. Feel free to reach out to us at any time.
Roll-Off Bins for Projects of Every Scale

We cater to the demands of our business and commercial clientele by offering services tailored to your daily operational requirements. If you're in search of a bin rental service in Calgary, look no further.
Our waste and recycling bins are well-suited for construction sites, community complexes, plazas, strip malls, warehouses, box stores, and other enduring commercial needs.
Our Calgary bin rental service encompasses containers ranging from 12 yards to 20 yards in size.
Short-Term Bin Rental for Occasions
Are you preparing for a unique occasion, whether it's at your residence, place of business, or a community center? Special events, especially those involving food service, tend to generate a substantial amount of additional waste.
Our roll-off bin rentals offer an ideal solution, providing you with the extra waste disposal capacity you require during your event. Our seasoned professionals are ready to assist you in determining the appropriate bin size based on your expected attendance and the nature of your event.
We'll promptly deliver the bin to your location for use throughout the event. Reach out to us today for a price estimate or to arrange your bin rental.
Our bins are useful for handling a wide range of materials, including:
Construction waste
Yard clean-up debris
Kitchen remodeling waste
Bathroom tear-out debris
Flooring and carpet removal debris
Electronics disposal
General clean-out of household furniture
Estate clean-outs
Garage rubbish
Other home remodeling and demolition projects
Tenant leftovers
Clothing materials
The following list outlines items that are not suitable for disposal in the roll-off bin. If you require the removal of any of these materials, please get in touch with us, and we will make arrangements for their proper disposal through alternative methods.

This encompasses hazardous substances, cement, bricks, ceramic tiles, soil, stones, gravel, asphalt, metal support beams, waste from industrial processes, chemical compounds, weed killers, insecticides, radioactive substances, solvents, paint (except for empty dried latex paint containers with no liquid inside), other combustible fluids, spray cans, propane cylinders, machinery, engines, oil filters, motor lubricants, transmission fluids, hydraulic oils, gasoline, antifreeze, household appliances like ovens, fridges, freezers, air conditioners, dishwashers, polluted soil, tires, batteries, computers, screens, TVs, microwaves, bathtubs, grills, fluorescent bulbs, ballasts, railway ties, medical waste, asbestos, animal remains, barrels, drums, and materials categorized as 'Hard to Handle"
Please Select from the following Roll-Off Bins for Pricing and Details
12 YARD DUMPSTER
The 12-yard garbage bin features a rear-opening design for effortless loading, making it an ideal choice for residential cleanouts, junk removal, minor renovation projects, and small construction tasks. Crafted to fit snugly in standard parking spaces or driveways, this bin comes with a generous 1-ton (2200 lbs) disposal capacity.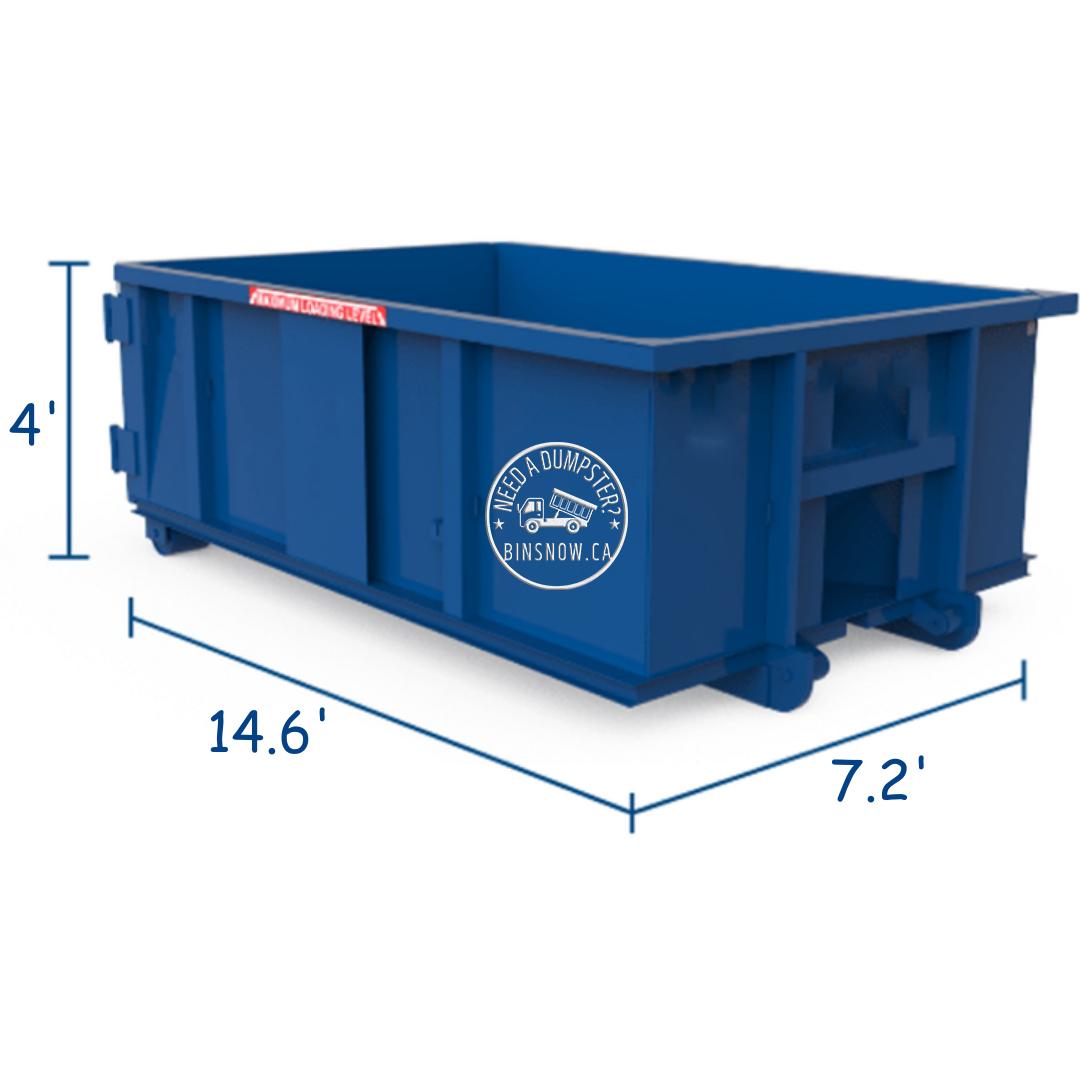 15 YARD DUMPSTER
15-yard dumpsters stand out as a favored choice for construction projects and home renovations when it comes to efficient waste disposal. With slightly greater dimensions compared to a 12-yard dumpster, this size can accommodate the equivalent of 6 truckloads of waste or a minimum of 15 standard garbage cans' worth of debris. Additionally, it's well-equipped to tackle more extensive projects such as deck and patio replacements or tree removal with ease, thanks to its ample space.
20 YARD DUMPSTER
the 20 yard dumpster is beneficial for big extensive projects. This size category is best suited for those projects that require the maximum amount of space for big overhauls and mass waste removal, like Roof Repairs, Building Demolitions and Post-Construction CleanupThis container will be abler to handle 8 pickup truck loads of materials on average.